Data from Glassnode shows that Bitcoin holders have realized 14 times more losses than gains in recent weeks.
Bitcoin 7-Day MA Realized Profit/Loss Ratio Sets a New Low
According to the latest weekly report from Glasnodethe realized profit/loss ratio recently reached its lowest value ever.
Whenever a coin sits idle on the chain and Bitcoin's price changes, it accumulates a certain amount of profit or loss depending on the direction of the price fluctuation.
This gain or loss is "unrealizedSo as long as the coin is still in the same wallet, but once the holder moves/sells this coin, the total amount of profit/loss it carried is called "realized".
Realized profit and realized loss metrics track how much profit and loss are reaped by investors in the BTC market.
Now the "realized profit/loss ratio" is an indicator that measures the relationship between the current values ​​of these two metrics.
Here is a chart showing the trend in the 7-day moving average of this Bitcoin ratio over the crypto's history: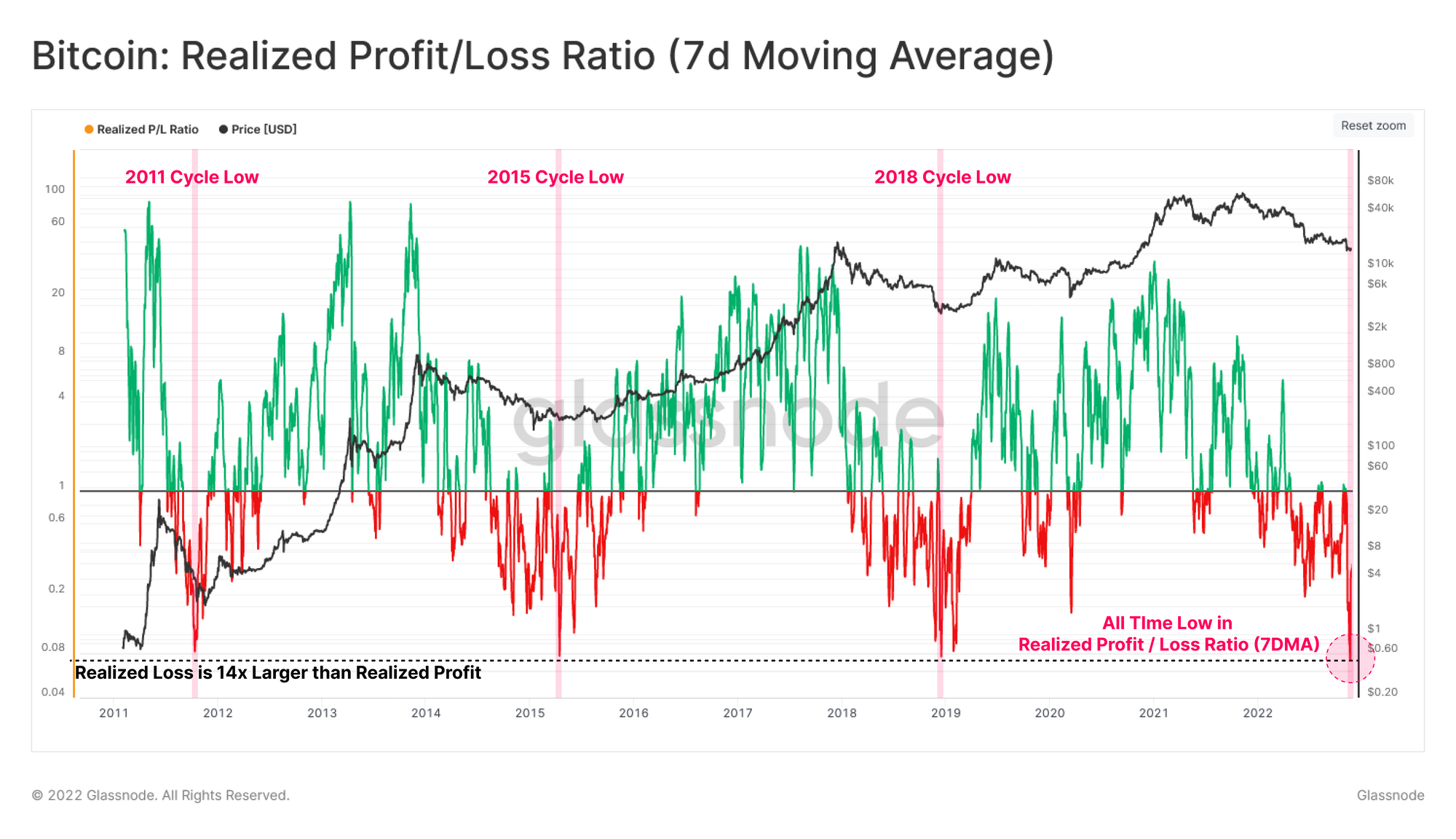 The 7-day MA value of the metric seems to have been quite low in recent days | Source: Glassnode's The Week Onchain - Week 49, 2022
As you can see in the chart above, Bitcoin's realized profit/loss ratio has dipped deep below a value of 1 after the FTX crash.
When the indicator has values ​​in this zone (that is, when it is less than 1), it means that BTC investors are currently realizing more losses than gains.
On the last dive, the stat not only dropped to pretty low values, but actually hit a new all-time low. This lowest level corresponded to the loss realization being 14 times higher than the profit realization.
The chart shows that deep lows like now have historically been seen at or near bottoms in previous bear markets, meaning they have always been at the center of shifts in the macro market regime.
If the same trend continues this time around, then the current Bitcoin market may also be in the middle of such a shift.
BTC price
At the moment of writing, The price of Bitcoin floating around $16.9k, up 3% over the past week. Over the past month, the crypto has lost 20% in value.
The chart below shows the trend in the coin's price over the past five days.
Looks like the value of the crypto has been trading sideways around $17k | Source: BTCUSD on TradingView
Featured image from 愚木混株 cdd20 on Unsplash.com, charts from TradingView.com, Glassnode.com