The crypto market has evolved from the never-ending destructive bear market to a more green and overwhelming market. Cryptocurrencies are moving from the initial stagnation and lower lows to a rally to the top.
Among the number of cryptocurrencies moving upwards and reaching significantly higher highs is Bitcoin, the largest cryptocurrency by market capitalization. Until now, Bitcoin broke multiple resistances and continued in a bullish trend that swept the entire crypto market with it.
Bitcoin ticks above $17,000 for the first time in a month
Since the FTX crash happened and the bear market deepened, we have seen Bitcoin crash to lower lows and slip below the 17,000 zones. After falling below that, Bitcoin stayed there for a long time. However, since the start of the new year, the Bitcoin market has made some positive moves in recent weeks.
After hovering around the $16,000 zone late last year, Bitcoin ticked up and above $17,000 for the first time in nearly a month, trading at $17,500. On Tuesday, BTC made a important move of about 1.5%, the highest daily gain since December 20, 2022.
And since Bitcoin hit the $17,000 zone, the coin has not budged or even fallen out of that zone. However, it has lost a few hundred dollars and is now trading at $17,409 at the time of writing. Despite the retrace, the market cap is still above $335 billion, which is higher than BTC's market cap at the end of last year.
BTC is starting to lose dominance
While Bitcoin is still considered the big dog among cryptocurrencies, it is starting to lose its dominance over altcoins in the crypto space as whale investors have registered low participation in the BTC market. According to on-chain analytics platform CryptoQuant, altcoin trading volume dominance is now over 50% as opposed to Bitcoin's 39% dominance.
Maartunn, a CryptoQuant contributor, wrote in a blog post, "When traders get bored of BTC, they usually start trading altcoins that are generally further up the risk curve. This makes them very fragile and easy to squeeze." He added: "altcoin dominance is back above 50%. Please note that if altcoins continue to dominate, there is a potential risk of further downturn," he added.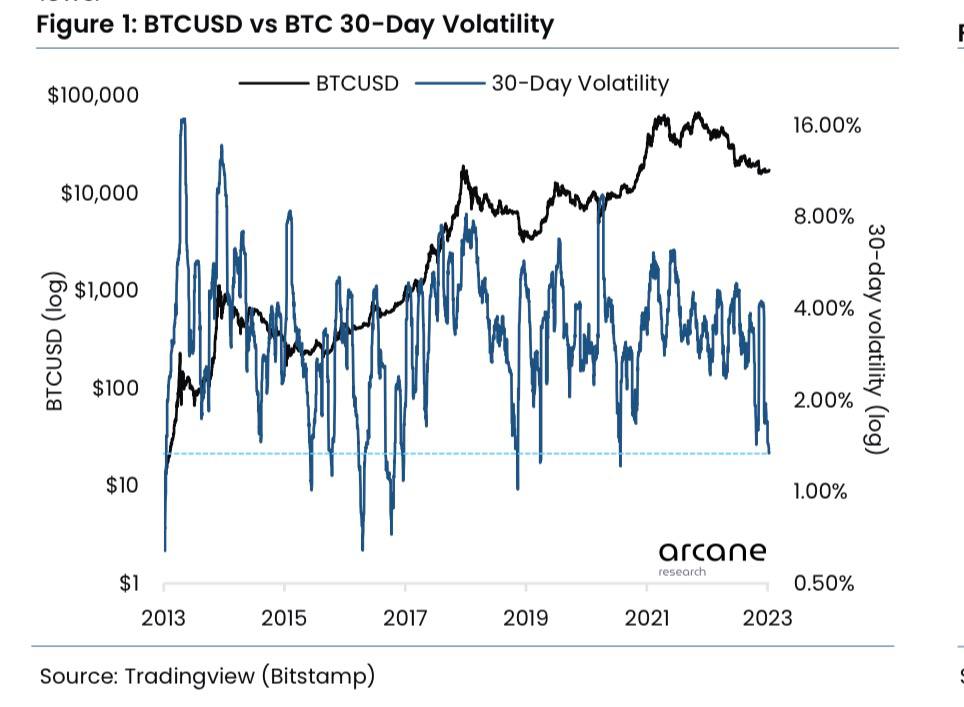 Moreover, according to a recent report from Arcane Research, BTC's 30-day volatility has plummeted to June 2020 levels as the asset traded relatively flat with low volatility during the first 10 days of 2023, making it even more stable than goldthe dollar strength index, Nasdaq and the S&P500 measured by 5-day volatility.
Meanwhile, as altcoins gain more dominance, major investors are now turning to assets other than BTC. Ethereum (ETH), Cardano (ADA), Polygon (MATIC), and Solana (SOL) have made significant moves over the past 7 days, three of which are up more than 50% together.
Featured image of Unsplash, chart from TradingView.com