Coinspeaker
Forward the Foundation: XT.COM Celebrates Fourth Anniversary of Its Founding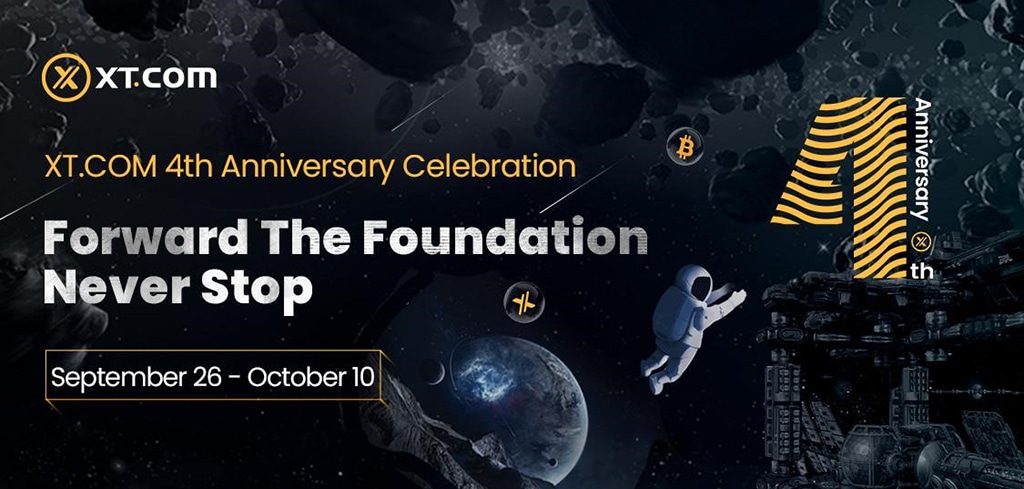 XT.COM, the world's first social-infused trading platform, is pleased to announce the grand opening of the company's fourth anniversary celebrations. A series of programs and initiatives will be held till mid-October.
The central theme of the celebrations this year is "Forward Foundation", which represents the crypto industry's dedication to discovery and infinite imagination. The premise of XT.COM's foundation has always been to create a new universal era for its users around the world, free from trade restrictions and banking restrictions.
Dive deeper into the evolution of XT.COM
As the world is not measured by its physical domain after the virtual universe came into existence, the metaverse where anyone can freely create without permission, founded XT.COM in 2018. Since then, XT.COM has provided users. Bringing blockchain to the masses, with access to digital assets.
Currently, XT.COM ranks in the top 30 on CoinMarketCap and has provided access to over 500 digital assets and large market cap coins, DeFi tokens, NFTs, Metaverse-related projects and many new assets through the XT.COM Main Zone and Innovation Channel. introduced from. region.
Due to the increasing demand for cryptocurrency across the globe, XT.COM has successfully established offices in the UAE, Singapore, Turkey, Malaysia, Bangladesh, Vietnam and Nigeria within the past year.
Dedicated to providing a hassle free user experience
XT.COM provides users with the opportunity to connect with each other with minimal UX difficulties, ensuring a unique trading experience on a secure platform accessible anywhere.
Since last year, the product line has expanded, including 6 more unique services beyond the initial XT Labs and XT SmartChain (XSC): XT Incubator, XT Starter, XT Futures, XT NFT, XT Academy and XT News . Each product meets the different needs of different users.
New products are already in the works. XT.COM will continue to grow and strive for more secure, professional, efficient and transparent financial digital asset services and products for users around the world.
Influence your trading experience socially
Being the world's first cryptocurrency platform that allows users to socially interact with each other on many different social applications, while having direct access to XT.COM allows the platform to be a socially influenced exchange. As it allows to expand globally. Now, social trading is integrated into every detail of XT.COM.
XT.COM develops social business partnerships with BTOK, a Web3 social network based on blockchain technology, and Tapatalk, the world's largest convergence platform.
Web3 Lucky Draws, AMAs, Airdrops and more!
To mark this 4th anniversary, XT.COM will have a number of special events including lucky draws, staking activities, airdrops and an AMA to celebrate. Users can participate in the WEB3 Time Travel Event on the exchange. The special events will be supported by projects such as Agravity, Artificial Intelligence Platform Coin, COT, CrazyMeta, DeScene Protocol, GamerHub, Matter1X, Metaatlantis, MotorN, NFT11, Platton, Qi, Redlight Coin, Sleep Future and many more.
Special AMAs on many different Blockchain and Cryptocurrency related topics will be held around the world interviewing various projects, Blockchain foundations and universities to bring the latest updates towards the industry. Various guest speakers from various projects and blockchains will participate in the AMA; Sandbox, Shima Capital, Cardano, Big Time, ConsenSys Ventures and more.
For more information on XT.COM's exclusive activities, please visit Fourth Anniversary home page Or follow the hashtag #XT4thAnniv on Instagram, Twitter, and other social media networks.
About XT.COM
By continuously expanding our ecosystem, ext.com Dedicated to providing the most secure, reliable and hassle free digital asset trading services to the users. Our exchange is built out of the desire to give access to digital assets to everyone, no matter where you are.
Founded in 2018, XT.COM now serves over 6 million registered users, over 500,000+ monthly active users, and 40+ million users across the ecosystem. Covering a rich variety of trading categories along with an NFT consolidated market, our platform strives to cater to its large user base by providing a safe, reliable and seamless trading experience.
As the world's first social-infused digital asset trading platform, XT.COM also supports social networking platform based transactions to make our crypto services more accessible to users around the world. In addition, to ensure optimal data integrity and security, we view user security as our top priority at XT.COM.
Forward the Foundation: XT.COM Celebrates Fourth Anniversary of Its Founding
Bitcoin Crypto
Related Post