In recent discussions about Bitcoin (BTC) and its potential future price trajectory, crypto enthusiasts and analysts alike are finding new correlations to parse. Most notably, a correlation with the EURUSD pair (the euro against the US dollar) has come into the spotlight thanks to a Twitter thread from esteemed analyst Josh Olszewicz.
Olszewicz starts by setting the scene, drawing attention to the widely recognized inverse correlation between Bitcoin and the DXY (US Dollar Index). He notes: "Most are aware of the strong historical inverse correlation between BTC and DXY. DXY is a USD index against a basket of currencies with a EURUSD weighting of approximately 58%. The correlation between BTC and EURUSD should therefore also be relatively high."
Will Bitcoin Price Follow EURUSD?
What is intriguing here is the observation Olszewicz makes about the correlation between BTC and EURUSD in the period after the pandemic and Bitcoin's latest halving. He mentions that the "post-pandemic (post-halving) EURUSD pair has led BTC in both the bullish and bearish directions by a month to a full year."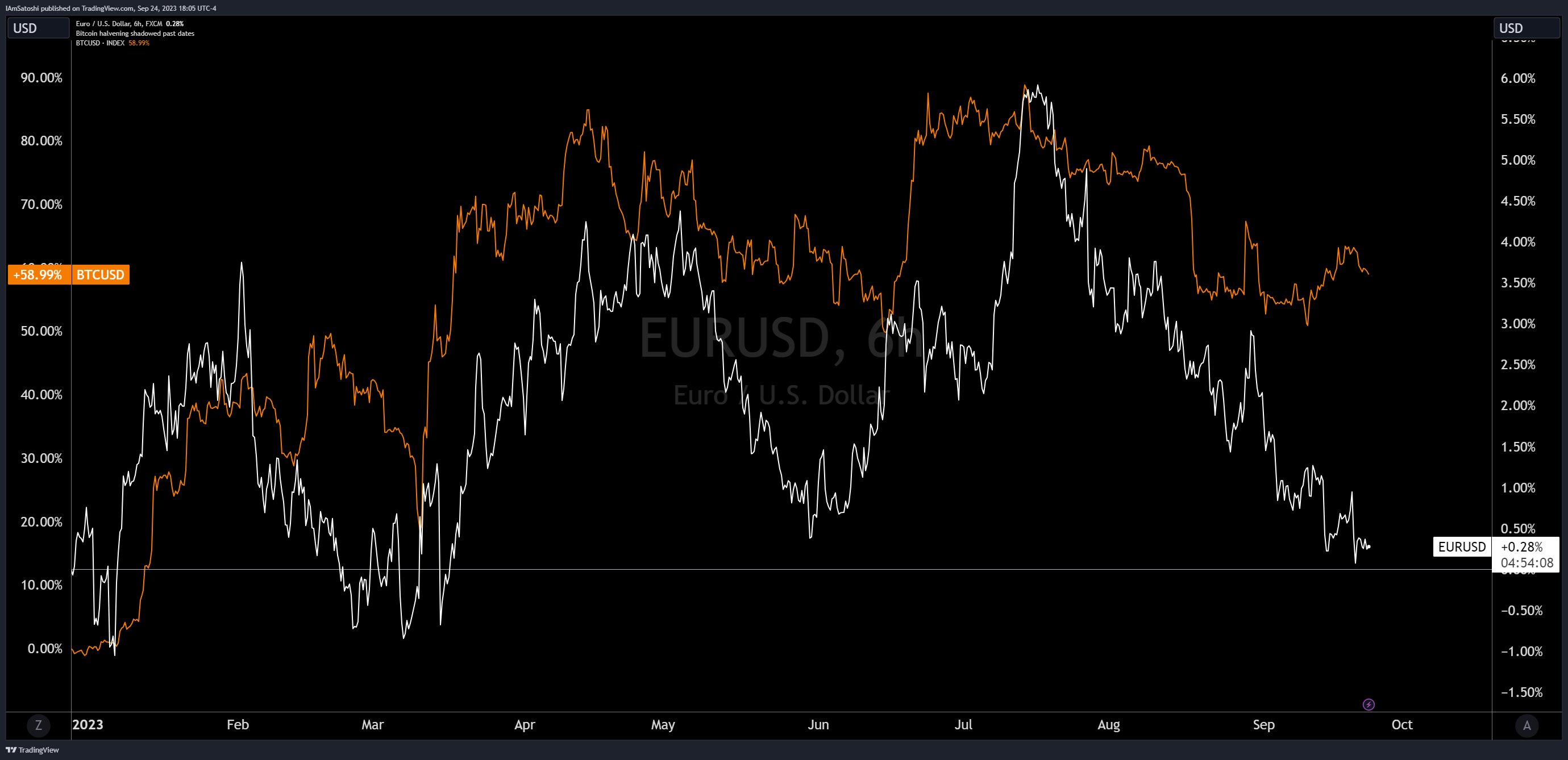 If this pattern continues, it could mean a bearish trend for Bitcoin. Olszewicz further suggests that "If this relationship holds, BTC should break down towards the BTFP low of $20,000." This statement is significant and indicates a potential substantial decline from the current position, all based on the movement patterns of the EURUSD.
In support of this projection, he highlights a technical pattern observed in both BTC and EURUSD, stating that "the EURUSD has completed a bearish H&S, similar to BTC, providing technical fuel for further downside." A "bearish H&S" refers to the bearish "head and shoulders" pattern, a chart formation that predicts a bullish-to-bearish trend reversal.
However, it is not all doom and gloom. Olszewicz does offer a glimmer of hope for Bitcoin bulls. He states: "If you're bullish on BTC here, you're either hoping that this relationship weakens/breaks, or that EURUSD starts to strengthen instead of continuing to weaken."
BTC's second high is wrong
Olszewicz also addresses some "aluminum" speculation, discussing how the correlation between BTC and EURUSD was seemingly disrupted during Bitcoin's second peak in November 2022. He suggests that EURUSD's continued decline did not immediately impact the bullish trend of Bitcoin, speculating that actions by major crypto players such as 3AC, FTX/Alameda and the Anchor BTC Reserve may have played a role.
He states: "It is both possible and likely that the behind-the-scenes funny business of 3AC & FTX/Alameda, as well as the Anchor BTC reserve, helped delay the inevitable bearish trend by about a year."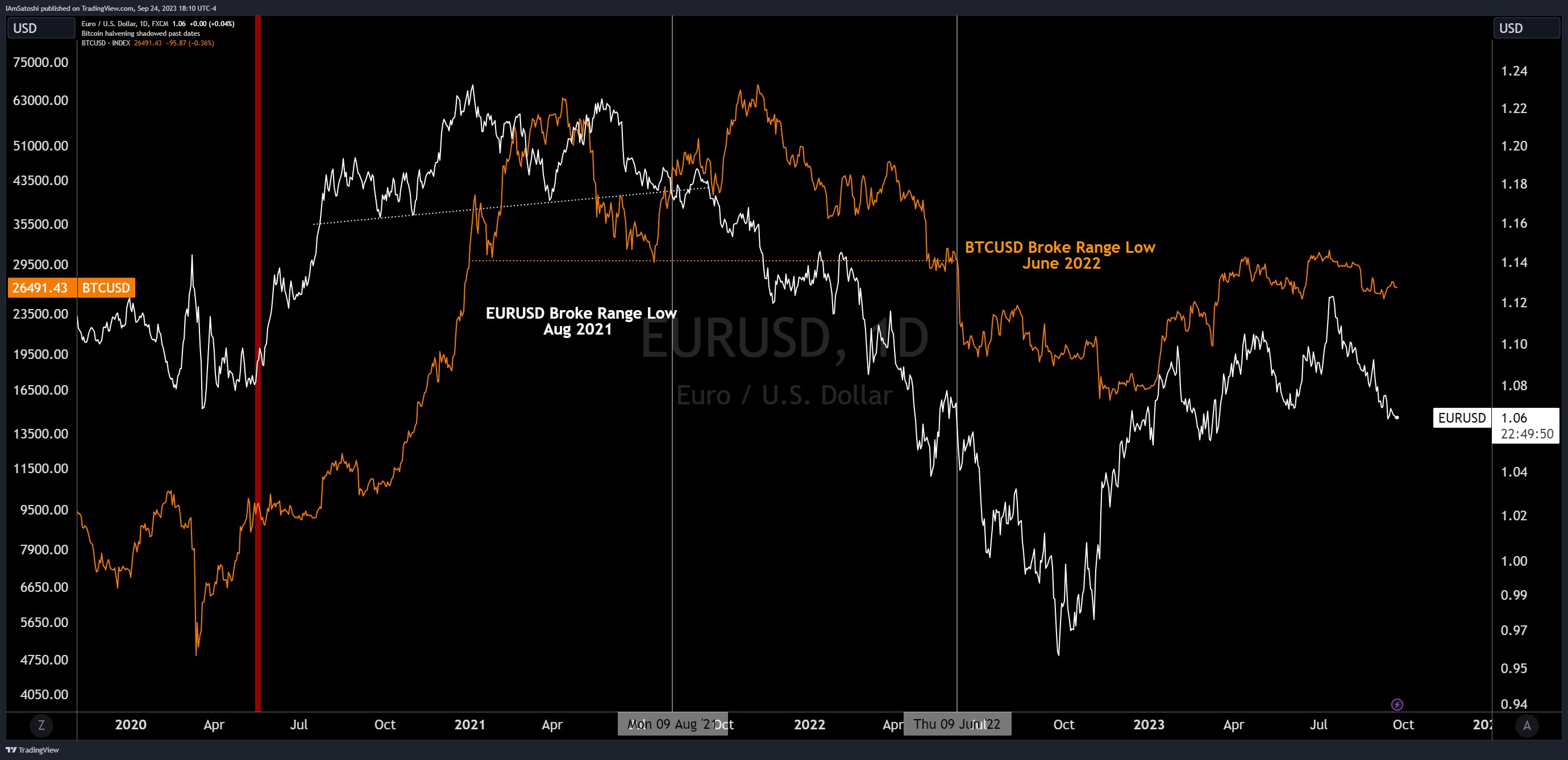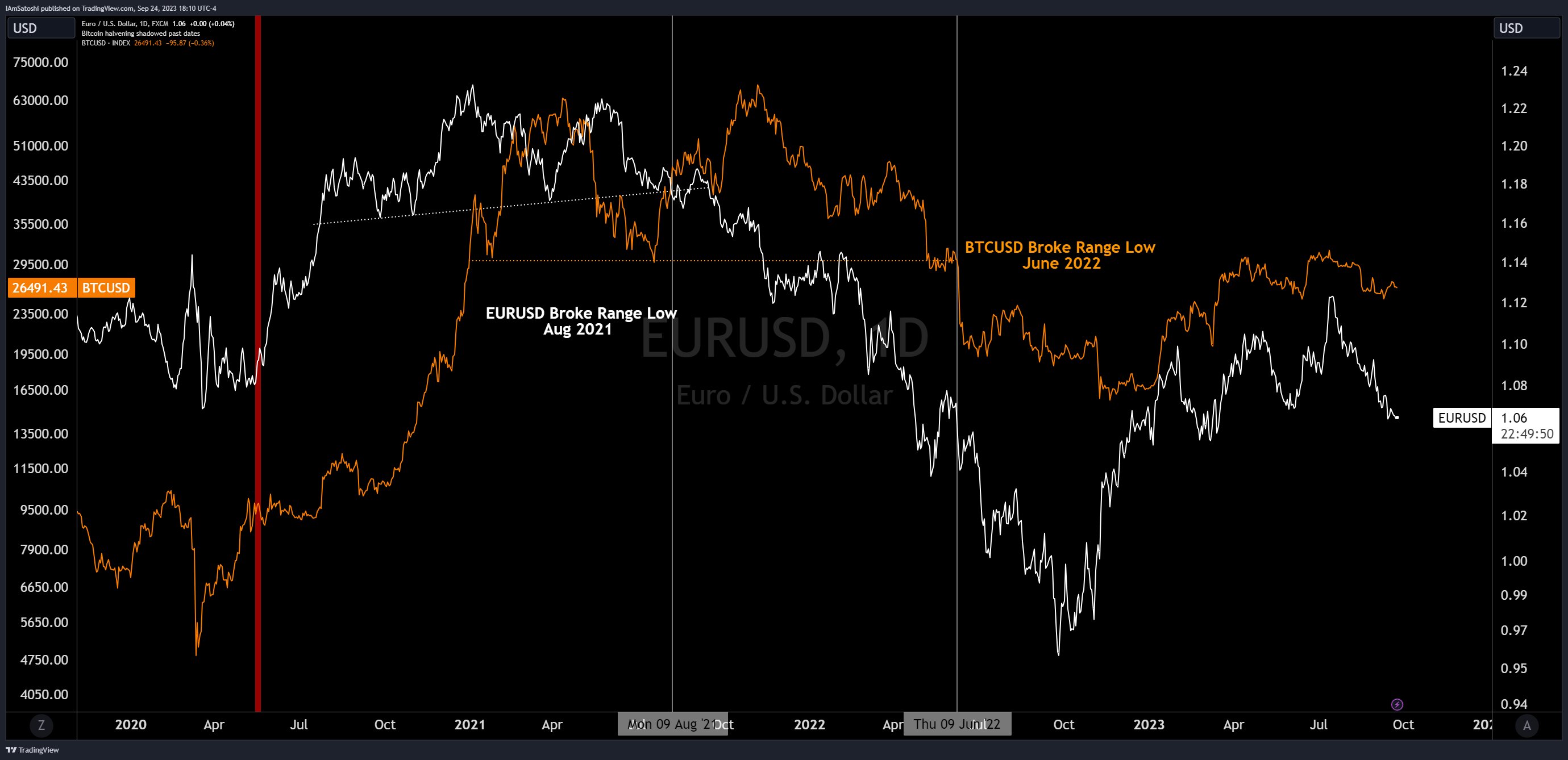 While correlations can provide insight, they are by no means a guarantee of future market movements. Investors should be careful and do their own research when making investment decisions. Rose Premium Signals added: "interesting observation on the BTC-EURUSD correlation. It is essential to consider multiple factors in crypto analysis. The relationship could indeed evolve, which could impact BTC's future movements."
At the time of writing, BTC was at $26,180.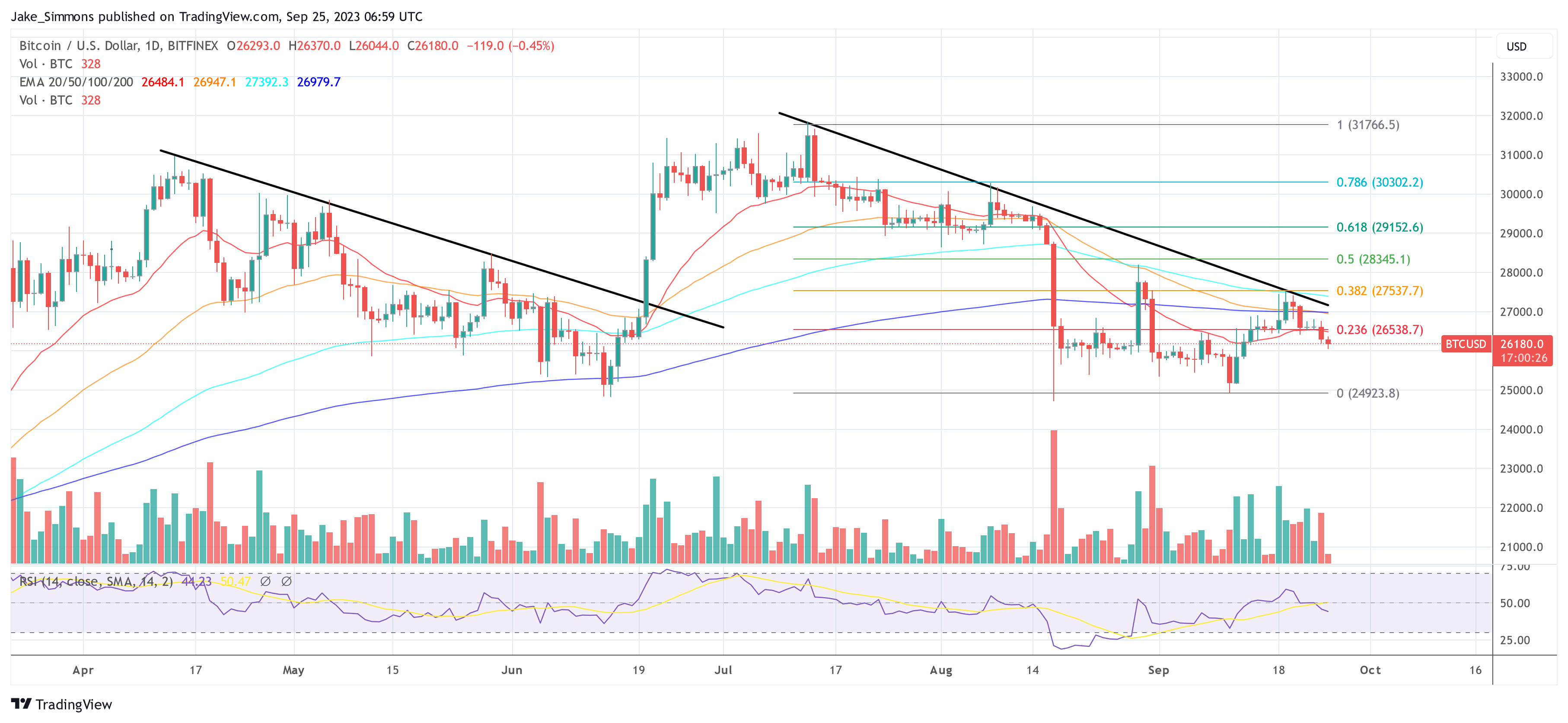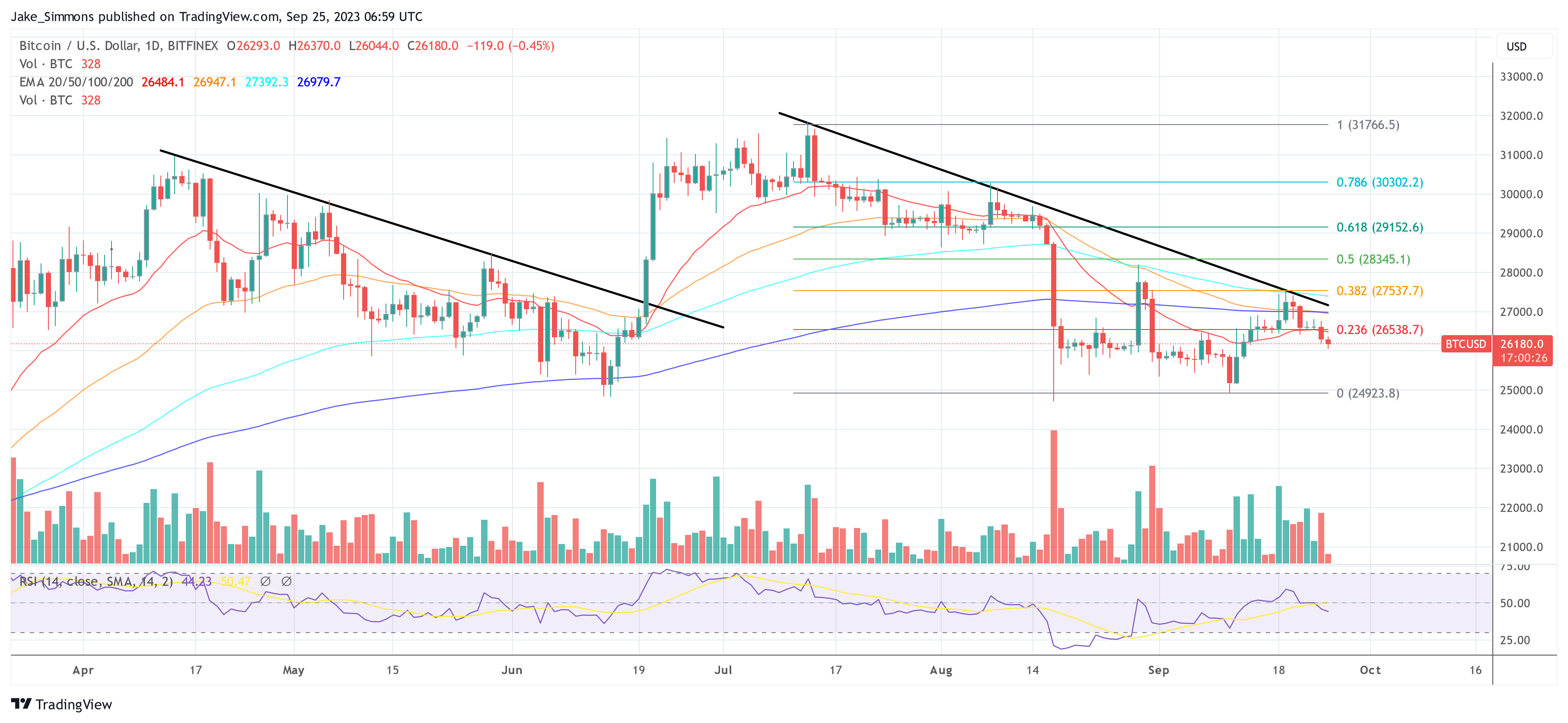 Featured image from iStock, chart from TradingView.com