Bitcoin has been on the rise since hitting a local low below $25,000 on September 11. Yesterday's rally to $27,435 marked a 10% increase from the recent low. Such as NewsBTC reportedThe rally was largely led by the futures market and a massive increase in open interest of over $1 billion, more than half of which was wiped out as BTC fell below $27,000. Despite this, BTC is up about 7.5% from last week's low. A reason to be bullish?
Glassnode report sheds light on market sentiment
According to for Glassnode, the Realized HODL Ratio (RHODL) serves as a crucial indicator of market sentiment. It measures the balance between investments in recently moved coins (which are held for less than a week) and those held by longer-term HODLers (which are held for 1-2 years). The RHODL ratio for the year 2023 flirts with the 2-year median level. While this indicates modest inflows of new investors, the momentum behind this shift remains relatively weak.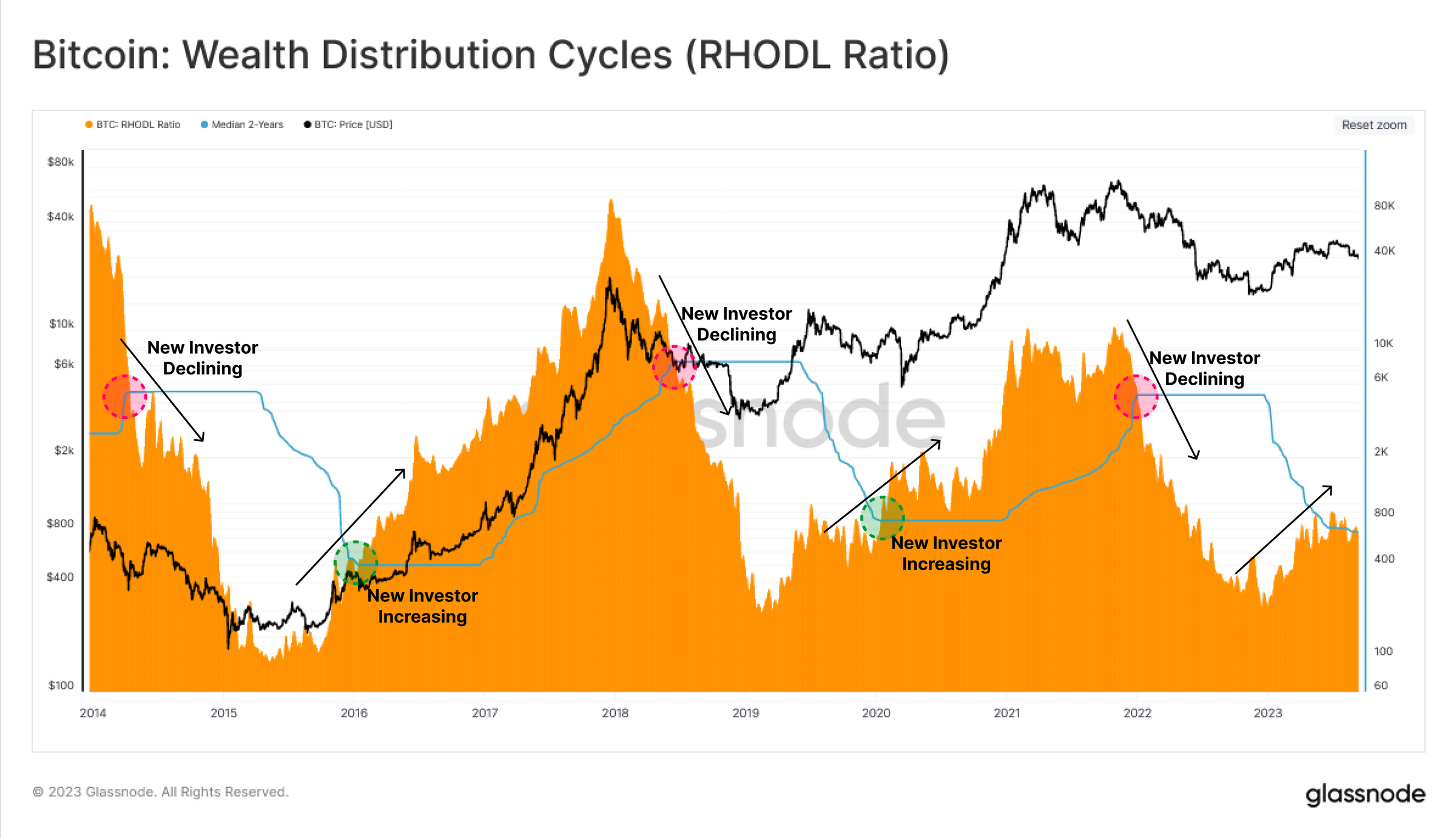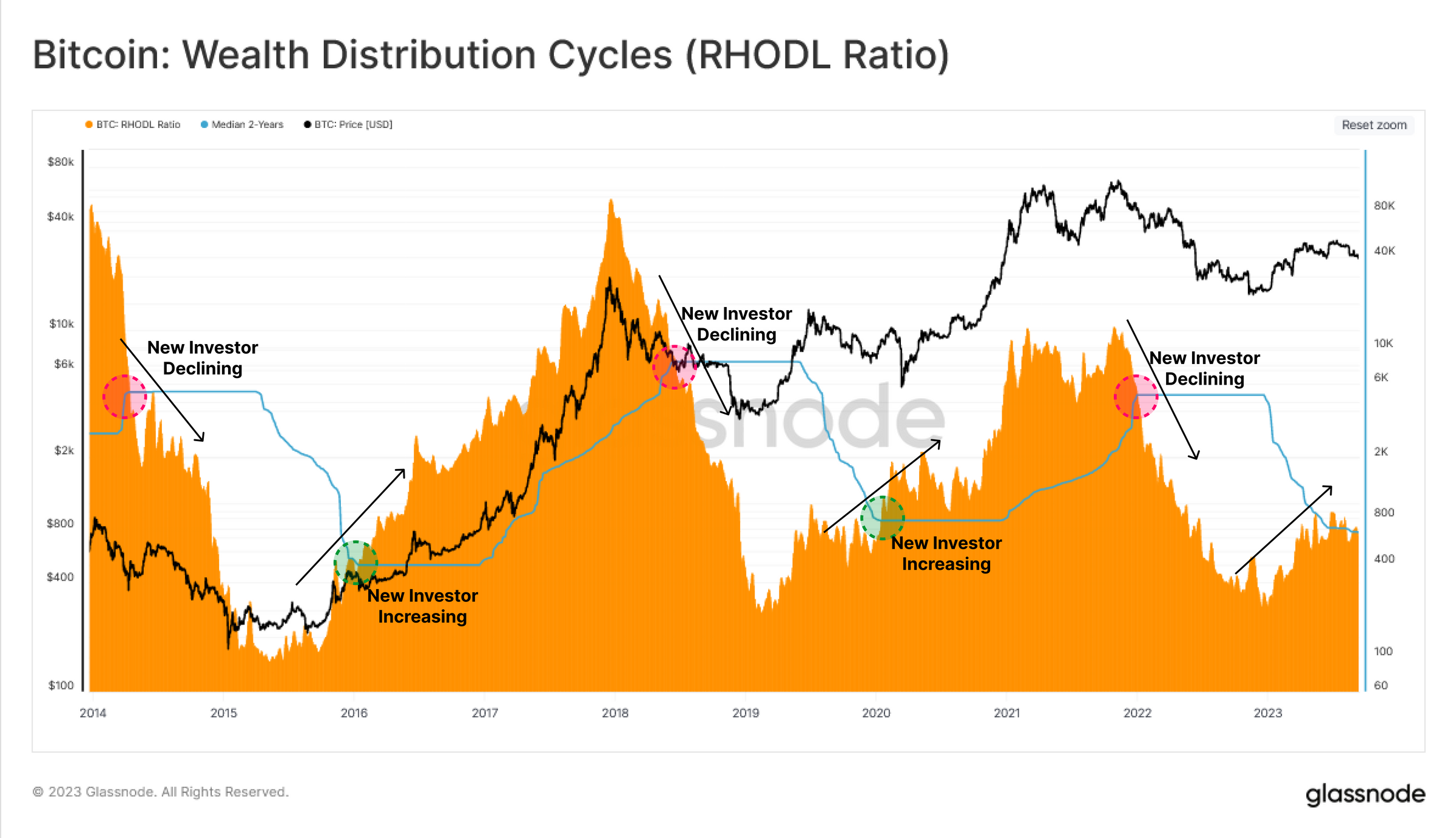 Glassnode's Accumulation Trend Score delves deeper into this trend. This shows that the current 2023 recovery rally has been significantly influenced by investor FOMO (Fear of Missing Out), with notable accumulation patterns around local price peaks above $30,000. This behavior is in stark contrast to the second half of 2022, when newer market entrants showed resilience by accumulating Bitcoin at lower price levels.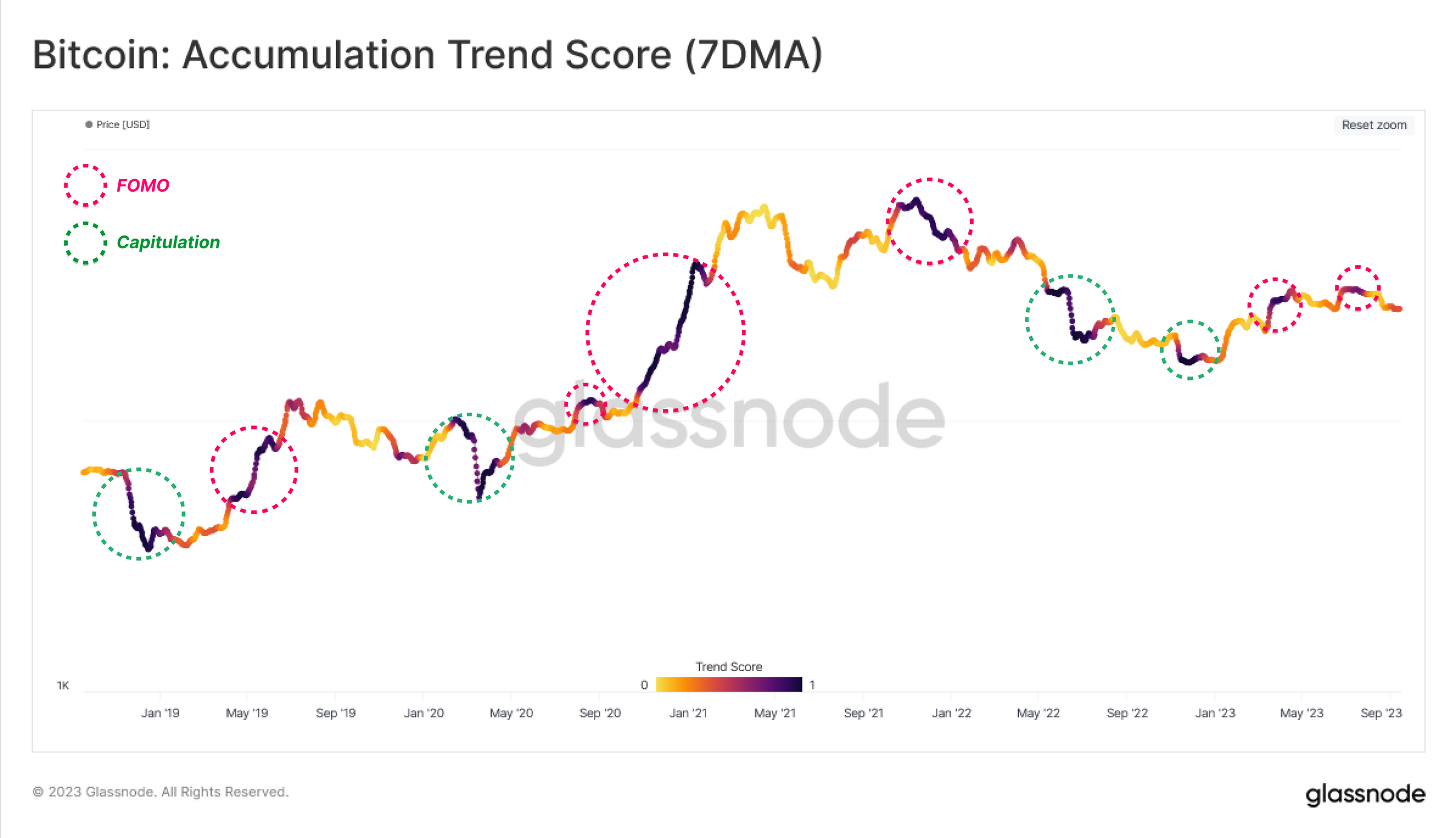 The Realized Profit and Loss Indicators also show a complex picture. These metrics measure the change in value of coins issued by comparing the purchase price to the disposal price. In 2023, periods of intense coin accumulation were often accompanied by higher profit-taking. This pattern, which Glassnode describes as a "confluence," is similar to market behavior in the peak periods of 2021.
An assessment of Short-Term Holders (STH) reveals a precarious situation. A staggering majority, over 97.5% of the supply these newcomers are bringing in, is currently operating at a loss, a level not seen since the infamous FTX debacle. Using the STH-MVRV and STH-SOPR metrics, which quantify the size of unrealized and realized gains or losses, Glassnode illuminates the extreme financial pressures that recent investors have struggled with.
Market confidence remains low
The report also delves into the domain of market confidence. A close examination of the differences between the cost bases of two subsets of investors – issuers and holders – provides an indication of prevailing market sentiment. While the market was reeling from the price drop from $29,000 to $26,000 in mid-August, there was overwhelmingly negative sentiment. This was reflected in the cost base of spenders falling sharply below that of holders, a clear signal of prevailing market panic.
To provide a clearer visualization, Glassnode has normalized this metric in relation to the spot price. A crucial observation is the cyclical nature of negative sentiment during the bear market recovery phases, which typically last between 1.5 and 3.5 months. The market recently entered the first phase of negative sentiment since the 2022 conclusion.
Currently, the trend has lasted 20 days, which could mean that the end has not yet been marked by the recent rally, if history repeats itself. However, if there is a sustained return to positive territory, it could indicate renewed capital inflows, signifying a return to a more favorable position for Bitcoin holders.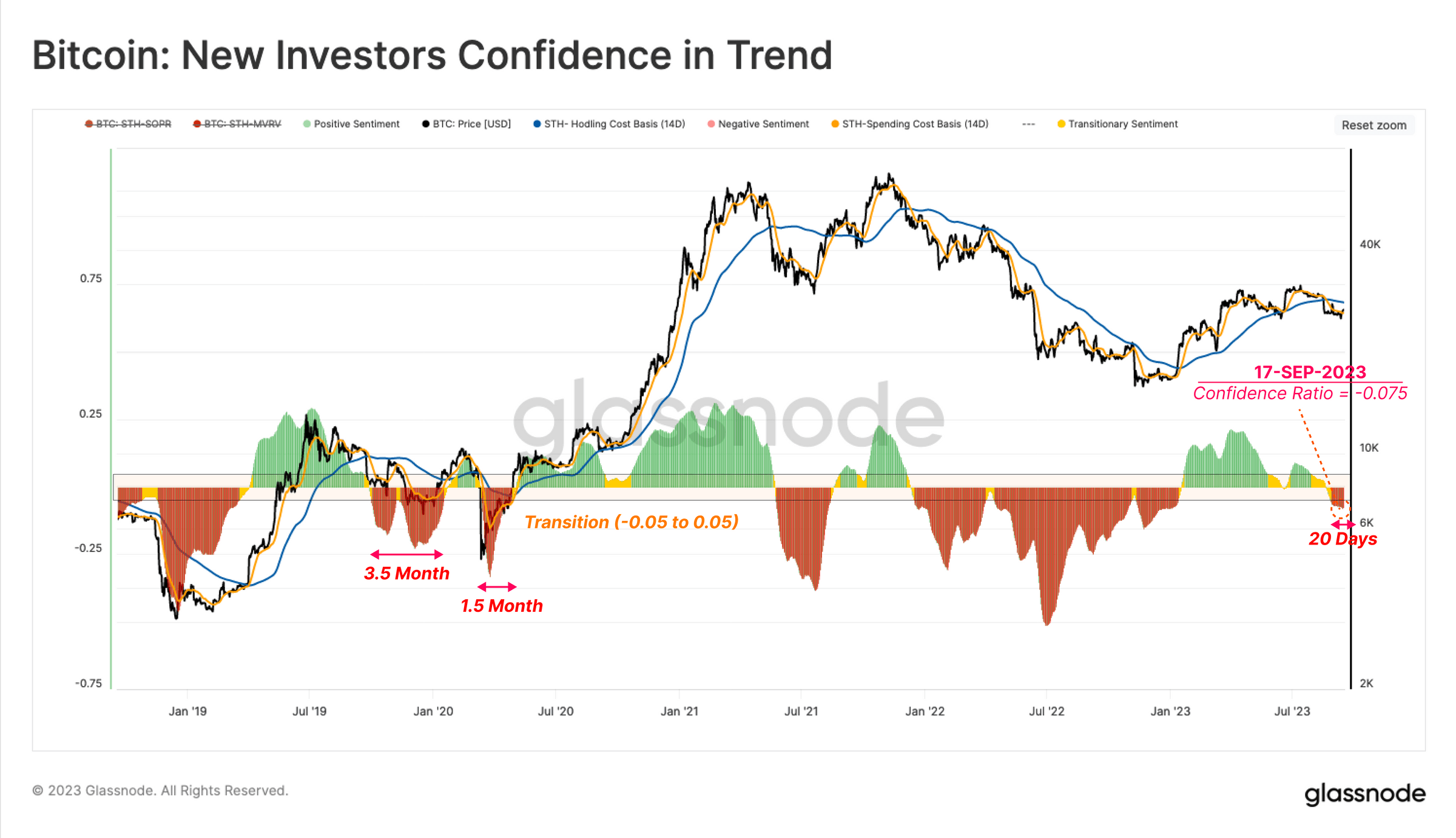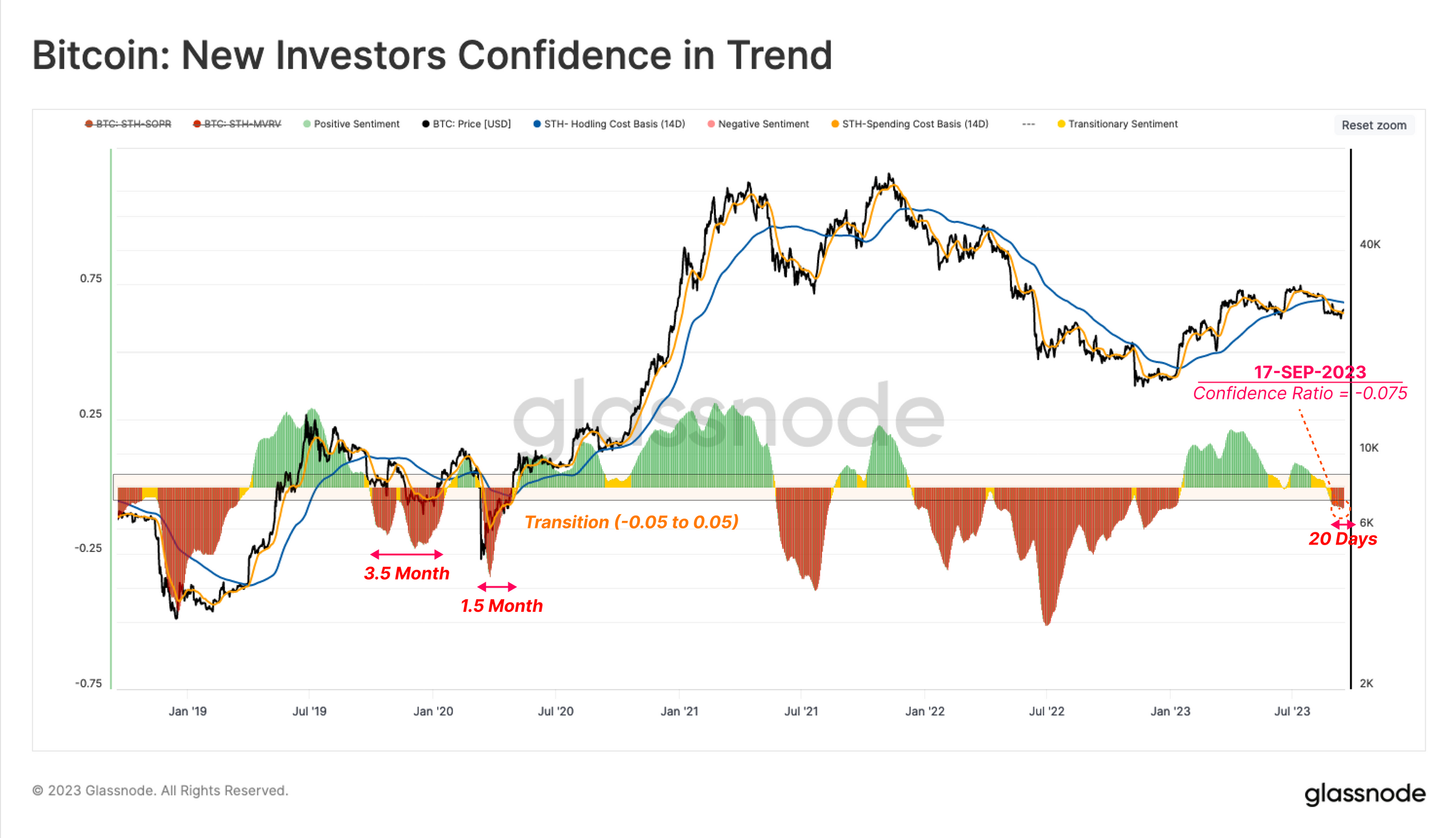 In conclusion, Glassnode's on-chain data reveals a Bitcoin market that is currently on the move. Although new capital has entered the market in 2023, strong inflows are lacking. Market sentiment, especially among short-term investors, is decidedly bearish. These findings indicate that caution remains the key word, with underlying market sentiment sending mixed signals on the sustainability of the current Bitcoin rally.
At the time of writing, BTC was trading at $26,846 after being rejected at the 23.6% Fibonacci retracement level (at $27,369) on the 4-hour chart.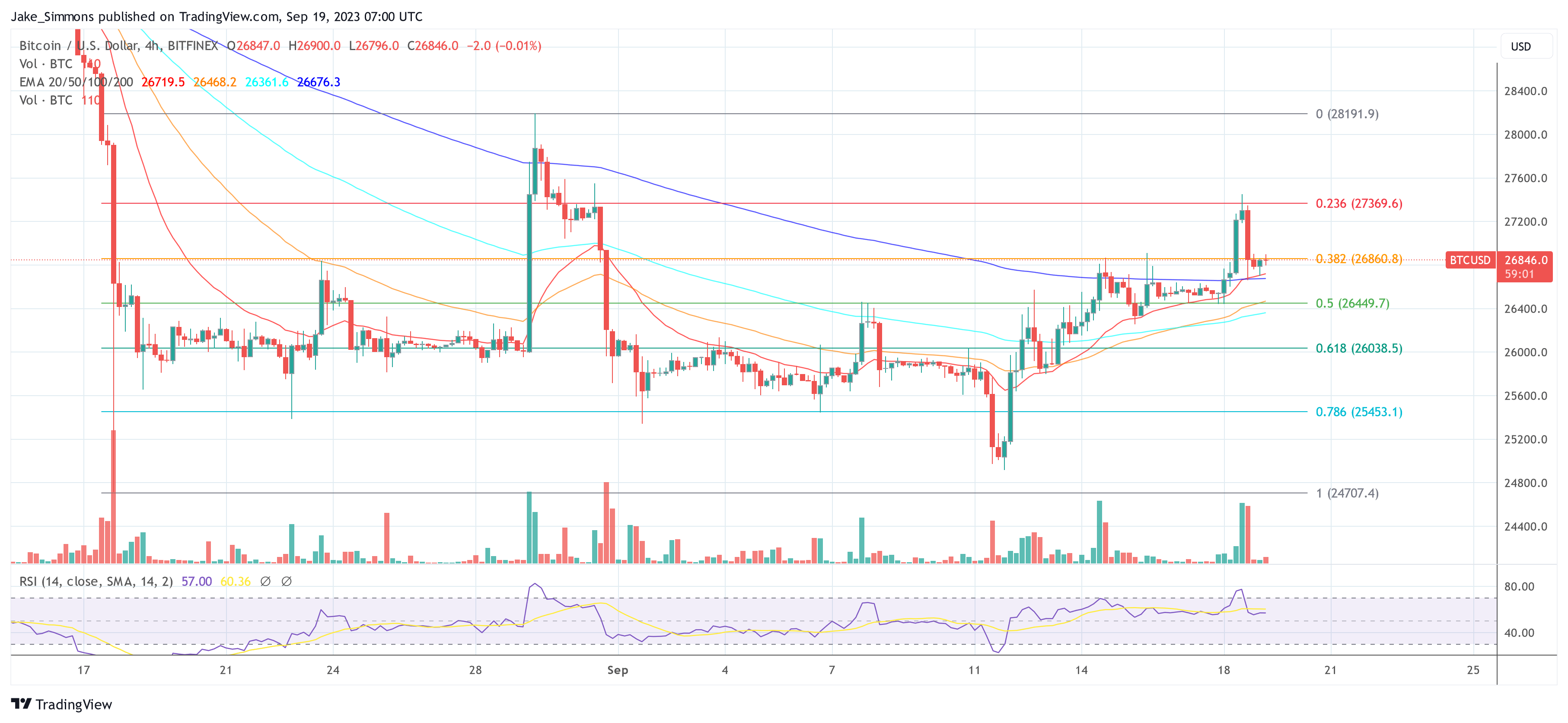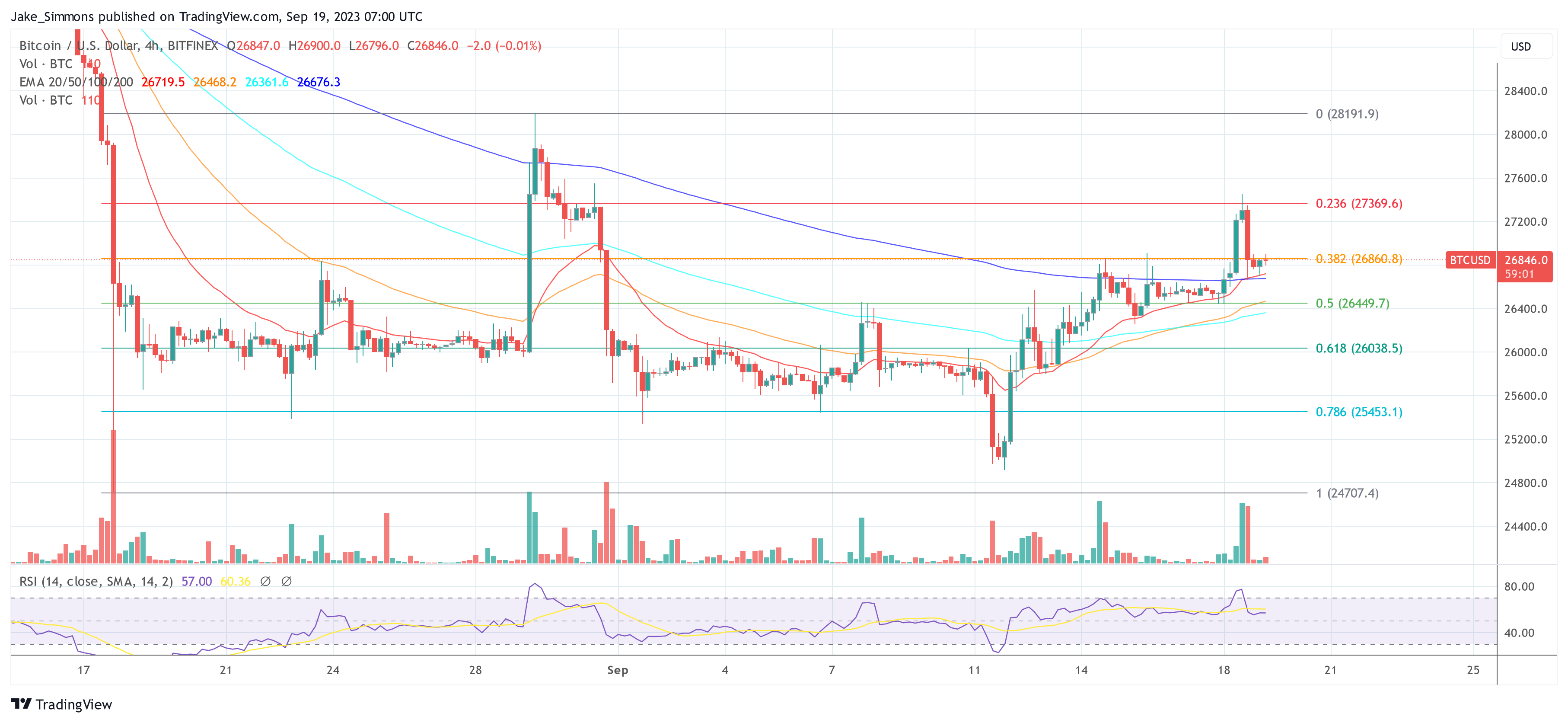 Featured image from iStock, chart from TradingView.com