coinspeaker
DinAir, Proud Sponsor of the 22nd World Blockchain Summit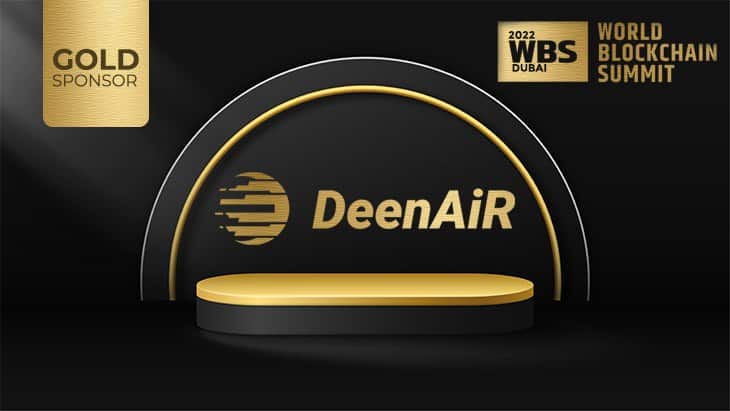 DeenAiR Blockchain Firm is Committed to Be the Gold Sponsor for the World Blockchain Summit (WBS). The 22nd edition of the global series WBS is scheduled to take place at Atlantis, Dubai from 17 to 19 October 2022. WBS is an A-list gathering among top tier crypto and blockchain projects.
The four important segments of WBS are Investor Connect, BlockConnect, Learning Sessions and Product Showcase. The cumulative goal of the summit is to bring various stakeholders such as investors, exchanges, enterprises, government representatives and technology leaders under one roof.
WBS is hosted under the patronage of HH Sheikh Juma Ahmed Juma Al Maktoum, a distinguished businessman and member of the ruling royal family. The three-day summit has the agenda for pitch competitions, conferences and exhibitions, along with formal and informal opportunities to network with industry experts.
startup world cup
A key point at the World Blockchain Summit is the "Startup World Cup" pitch competition. WBS's partnership with Startup World Cup aims to provide a platform to present innovative blockchain startup ideas to an esteemed jury of investors. The winners will secure the regional cup and the chance to win USD 1 million at the final event in San Francisco.
In addition to the above highlights, the summit also includes panel discussions with renowned speakers on several topics that are currently grabbing the attention of the market. Some of the eminent speakers to be named are Reeve Collins, Co-Founder of SmartMedia Technologies & Tether, Sandeep Nelwal, Co-Founder of Polygon and Dr. Marwan Alzarouni, CEO of Dubai Blockchain Center.
DeenAiR. about
DeenAiR is a leading tech firm with extensive expertise in Infosecurity (InfoSec), Artificial Intelligence (AI), and Augmented Reality (AR). DinAir's mission is to create an efficient and stable infrastructure. It integrates key features of NFT, AI and AR into the blockchain ecosystem.
Website , Twitter , Wire , Github , gitlab
About the World Blockchain Summit (WBS)
The World Blockchain Summit is a global series of elite gatherings taking place in 19+ destinations across the globe. It is a thought-led initiative that brings together the most important stakeholders from the blockchain and cryptocurrency ecosystem such as investors, blockchain and crypto projects, exchanges, enterprises, government representatives and technology leaders – to discuss and think about the future. It can transform businesses and government functions with industry and revolutionary ways to communicate.
The summit also includes inspirational keynotes, pitch contests, panel discussions, investor meetings, project showcases, industry use-cases, and a host of formal and informal networking opportunities.
Website , Twitter , linkedin , instagram , youtube
DinAir, Proud Sponsor of the 22nd World Blockchain Summit
Bitcoin Crypto
Related Post