Location/Date: London, UK – October 24, 2022 at 3:07 pm UTC · Read 3 minutes
contact: alluoSource: Alluo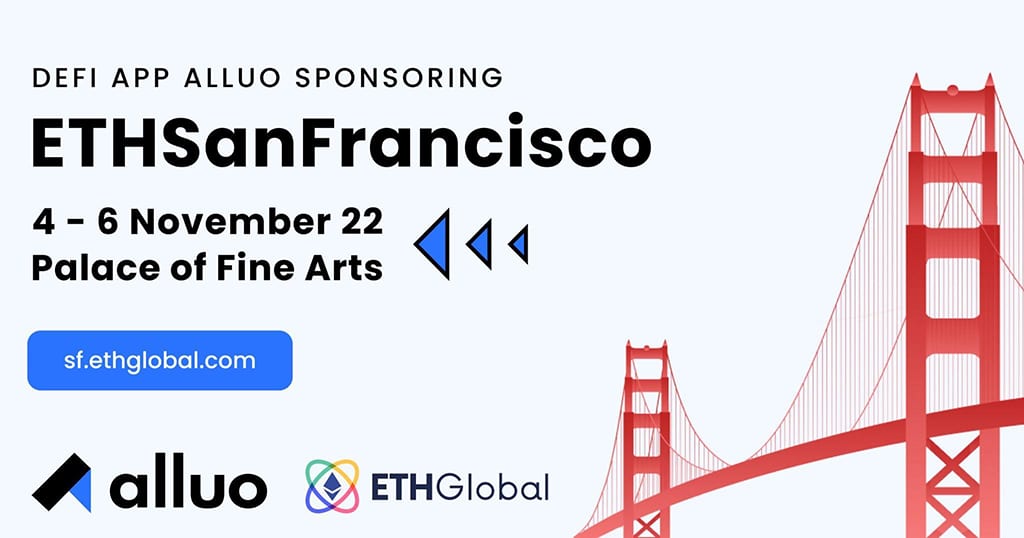 alluoOffering a fintech utility powered by an advanced DeFi engine, the mobile and web app has announced its participation as a "Pillar" sponsor in the coming times. ETH San Francisco,
ETH San Francisco is the world's largest Ethereum Hackathon taking place between November 4 and 6, bringing together some of Web3's top minds and industry experts. As a pillar sponsor for ETH San Francisco, Alluo will provide substantial support and expertise with its physical presence at the event, as well as offering $10,000 in prizes for a hackathon.
Alluo founder and CTO Remi Tuyarts commented on the sponsorship:
"We are proud to be a pillar sponsor at this year's ETH San Francisco. As a project that believes in making finance accessible to all, we are deeply attuned to the ethos of ETH San Francisco that DeFi is the solution. We look forward to supporting developers and builders who are interested in building with Alluo, as well as showcasing what we've done so far, and we can't wait to see That's what people make with interest tokens!"
In addition, Alluo has also recently announced its partnership with unblockFastest and most cost-effective on ramp and off ramp, which is fully configurable for alloo travel. Together, the two flagship projects will host a networking event at ETH San Francisco, providing developers, builders and Web3 professionals the opportunity to engage in debate and share key insights at Finders Keepers in San Francisco.
Commenting on this, Unblock co-founder Bivu Das said:
"We are absolutely thrilled to partner with Alluo, and look forward to co-hosting a networking event with our team at this year's ETH San Francisco. We couldn't be more pleased to collaborate with a project like Alluo , which has such a degree of alignment with our vision for mass adoption of decentralized finance, and we look forward to participating with and supporting them at ETH San Francisco.
ETHGlobal has run over 20 hackathons with global presence from over 100 countries, 30,000 tech attendees attended, and reached over 250,000. This year's ETH San Francisco will feature some of the brightest people from Web3, bringing together developers from around the world – a showcase of the growing Ethereum community and an opportunity for hackers to showcase their skills to the world.
Alluo. about
Alluo is creating a new niche in financial services with its user-friendly platform that offers the flexibility, control, transparency and access to the great rates that DeFi can bring. With the usability and customer-centric experience of fintech, Alluo removes the need for financial intermediaries and gives both first time users and experienced Web3 natives complete control of their finances with complete transparency and lightning speed.
About Unblock
Unblock is a payment gateway that aims to democratize access to crypto, allowing people to ramp up securely, rapidly and simply. With a mission to bring the next billion people to Web3, the founders of Unblock come with a wealth of fintech experience, bringing together some of the UK's biggest fintech senior leaders.
About ETH San Francisco
ETH San Francisco is the largest hackathon in the world that enables teams to create something great in just 36 hours. The Web3 event brings together developers, industry experts and companies from around the world to showcase the infrastructure and applications that will power the new decentralized web.
obey alluo To stay updated with all your latest news, announcements and updates on social media.
Subscribe to our telegram channel.
Add
Bitcoin Crypto
Related Post