In the past 24 hours, Bitcoin price saw a significant increase of 2%, reaching an intraday high of $27,320 yesterday. At the time of writing, the BTC price was hovering around $27,000.
Why did the Bitcoin price rise today?
Several analysts have provided insight into the recent upward trajectory. Well-known crypto specialist Skew explained on Twitter: "BTC Aggregate CVDs & Delta: Lower time frame cases, but quite clear spot absorption around the high, so $27.2K is a key price area to clear for spot buyers. Most of the push-up was driven by the perpetrator, with a bargain price (short liquidations and a strong bid for the perpetrator)."
Skew's chart shows that momentum was mainly supported by short liquidations and firm bids in the perpetual markets. When the $27,200 threshold was reached, selling began in the spot market, signaling a potential local high for the Bitcoin price.
Adding to the data, on-chain analytics firm Santiment confirmed that open long and short Bitcoin positions soared as Bitcoin's price enjoyed a bullish turn on Thursday. The chart shared by Santiment correlates Bitcoin's rise with increased open interest in the futures market.
"After a quick price recovery after those longs and shorts closed quickly yesterday, they have remained high today, allowing prices to maintain their levels," the on-chain tracker said.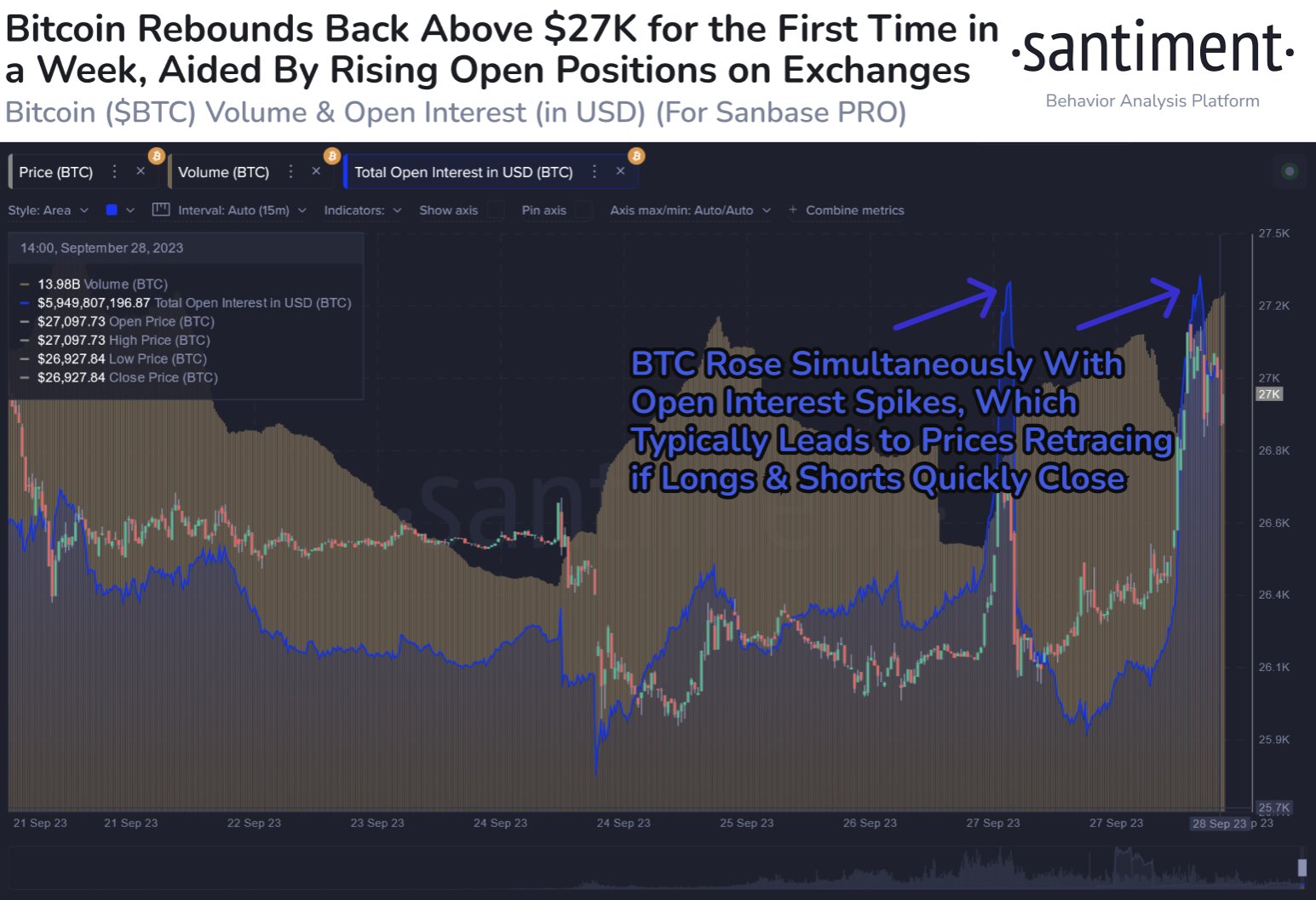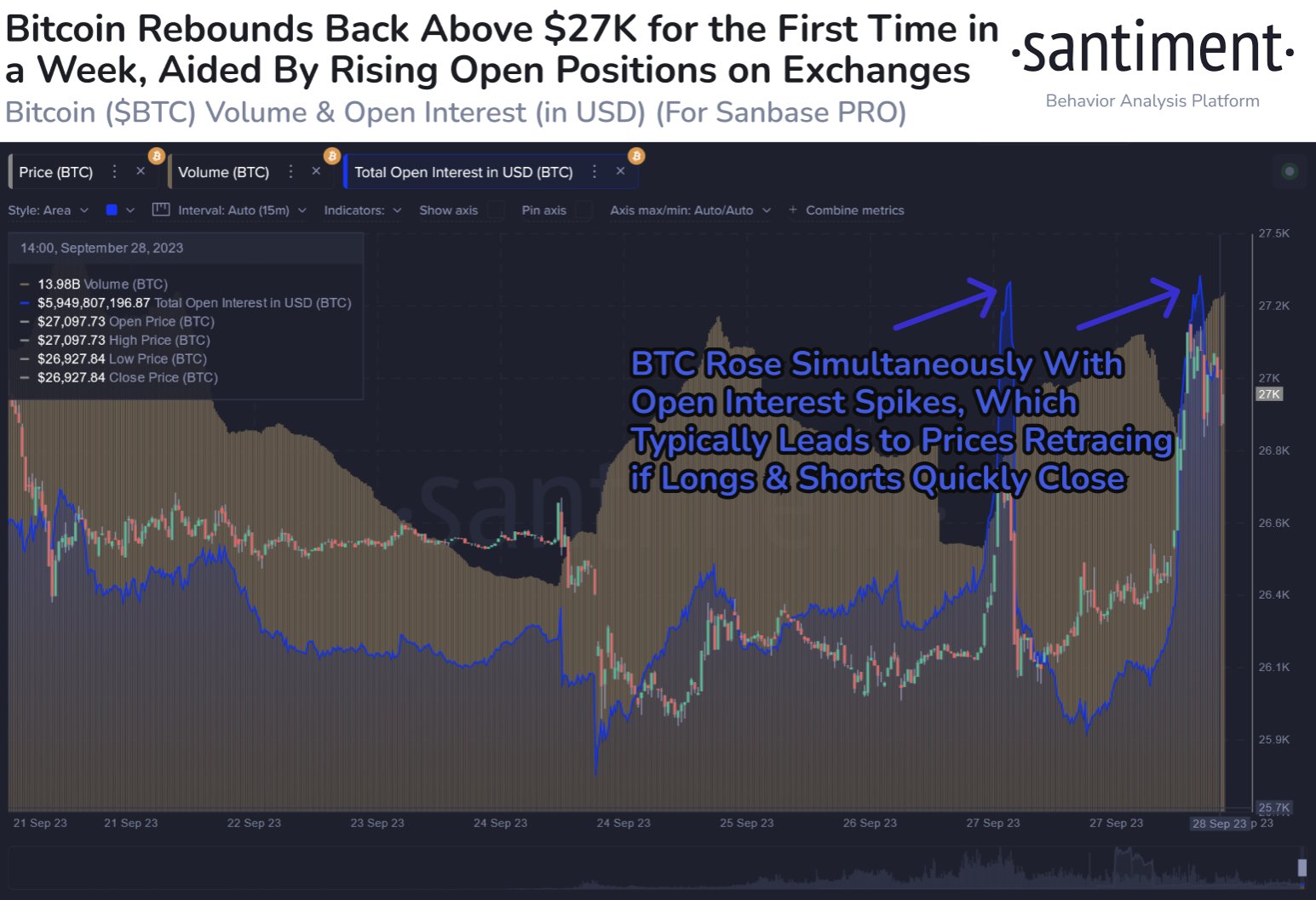 On a bullish note, Santiment commented that Bitcoin sharks and whale addresses, which are defined as 10-10,000 BTC wallets, have now reached their highest amount in 2023, which is 13.03 million BTC. In addition, Tether sharks and whales gather their purchasing power. "This is generally a bullish combination," Santiment noted.
Nevertheless, the analytics firm also sounded a note of caution: "The long-term outlook is bright for Bitcoin, with whales accumulating BTC and USDT. However, expect a short-term correction with traders' profits falling heavily as it hit $27K on Thursday. When the 7D MVRV falls below 0, that can be ideal for the next step up."
Their data further highlights that yesterday's major move saw Bitcoin post its highest gain/loss figure in the past quarter, which generally signals an impending short-term correction.
DaanCrypto, another industry expert, noticed during the price fluctuation: "Bitcoin price up, Spot Premium up, financing down. This move has led to a strong, sustained bid for the spot so far, which looks quite healthy at the moment."
This also applies to the well-known crypto analyst Exitpump agreed during the price crescendo with the observation: "BTC Binance spot order book: Noticed I was hunting for a bid on the book with big asks slightly above the price, it's getting interesting. Maybe a fake buy wall, but I think it will only go higher.
What's Next for the BTC Price?
As described in one of our latest analysesTomorrow, Saturday, the Bitcoin price faces a crucial month-end close. Rekt Capital, a seasoned crypto analyst, recently highlighted the significance of Bitcoin's impending monthly candle close.
Through X, he highlighted that Bitcoin currently views the $27,000 mark as resistance. He explained: "Bitcoin needs to close above $27,091 monthly for this to be a fake analysis. Otherwise the fault is technically confirmed." In this case, a decline towards $23,000 could be imminent.
On the 1-day chart, Bitcoin is showing strong bullish momentum today. The BTC price has managed to break the (black) trend line. Today's task is to defend the retest. If successful, a monthly close above $27,100 seems very likely, and a rally similar to June could be possible.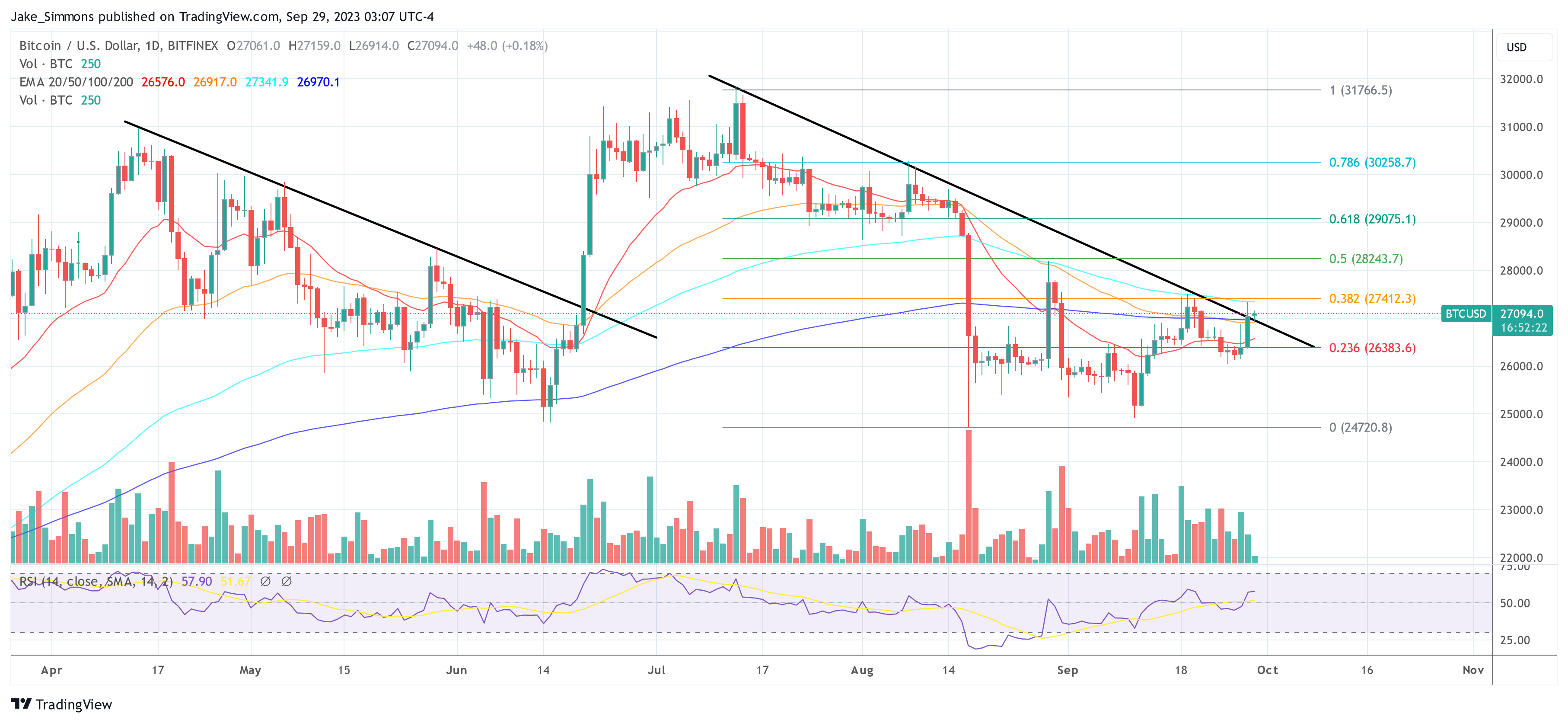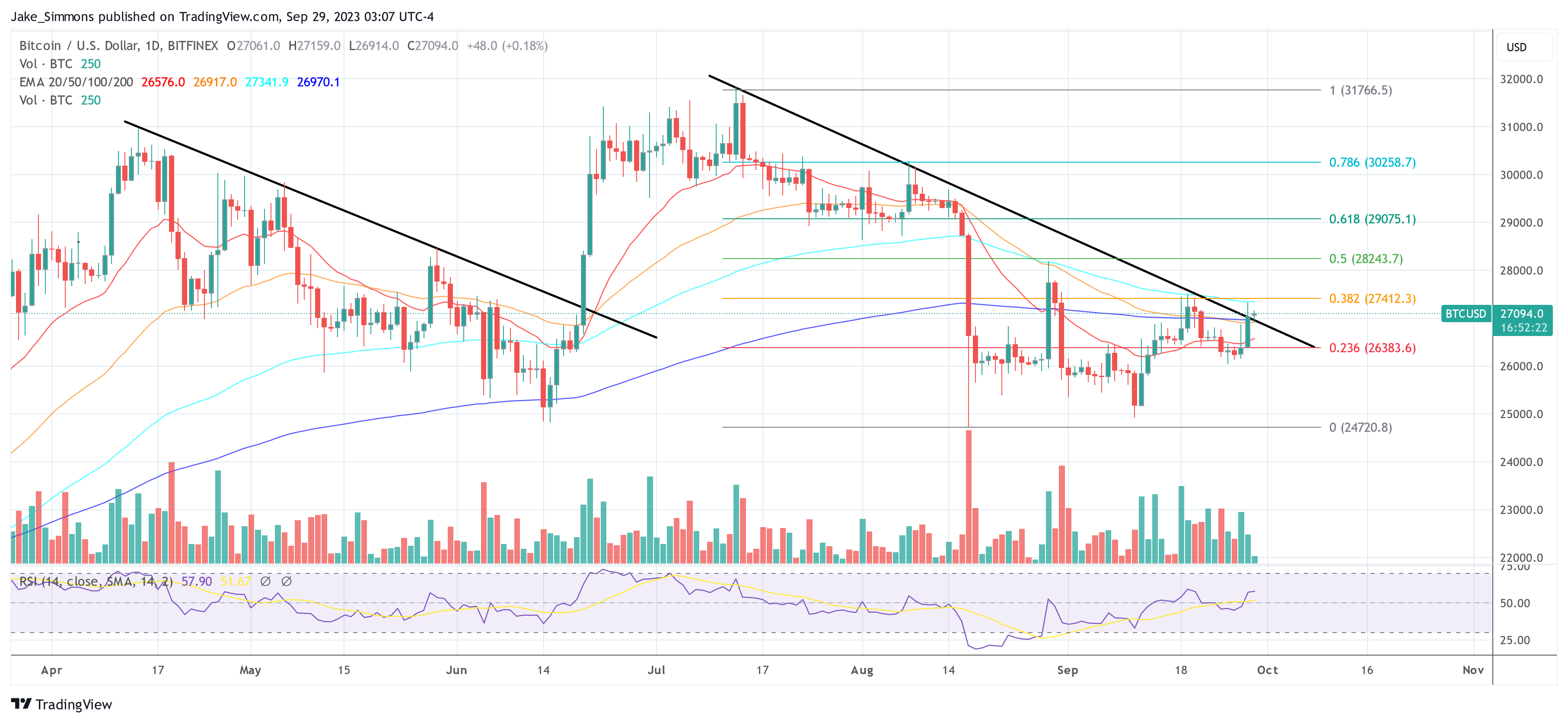 Featured image from Shutterstock, chart from TradingView.com